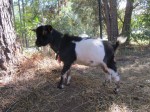 J-Nels L Wade Hampton
Thank you to J-Nels farm in Forest City, NC for this little guy!
Born February 16, 2014, Hampton came to us on February 22nd, 2014. I am very exited about this little guy as he brings in grand champion genetics on his dam's side, and major milk production genetics on his sire's. I have high hopes for his kids! Stud Service $75.
Rosasharn SH Legend *B
Rosasharn BB Son Of Honey +*B
Rosasharn WT B-Bo ++B
SG Rosasharn's Buckwheat Honey 3*M
SG Rosasharn P Haiku 4*M
Doe-Sy-Doe's Patte'n
Rosasharn's Unagi 3*M
J-Nels OH Butter Pecan 4*M
Rosasharn BH OH Henry *B
Rosasharn TL Bully Hill *B
Rosasharn Tom's Bit-O-Honey 4*M
SGCH J-Nels O Buttercup 3*M
Little Tots Estate Origanum *B
SGCH J-Nels ER Dumplin 2*M
Show Wins
| | | | | |
| --- | --- | --- | --- | --- |
| Year | Show | Judge | Win | Notes |
| 2014 | PDGA Spring Show | K. Fraley | 1st place Jr. buck | 7 bucks, 2 juniors |
| 2014 | PDGA Spring Show | S. Bice | 1st place Jr. buck | 7 bucks, 2 juniors |
Hampton's Kids
---
Hampton is line bred on:
---
Udders in Hampton's Pedigree
---
Relatives
---