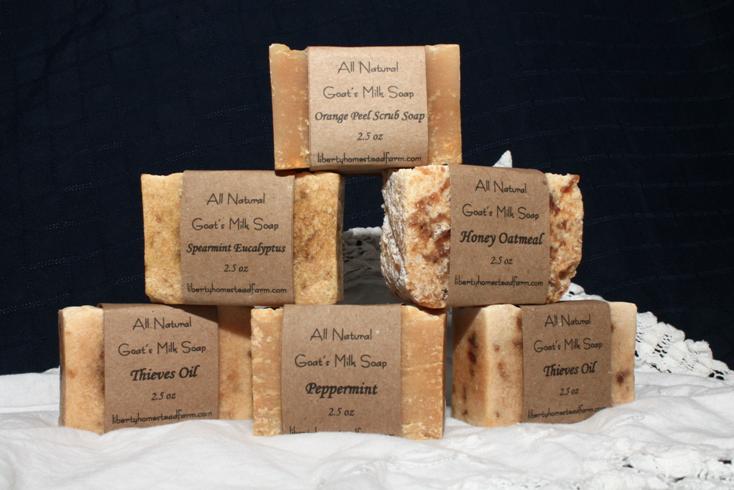 Our all natural goat's milk soap is handmade in small batches here at Liberty Homestead Farm. We have multiple varieties that vary depending on the season. It is made with organic oils and milk from our Nigerian Dwarf and Oberhasli dairy goats. Goat's milk soap can help cure eczema, acne, sunburn, and more. It's high fat content makes it creamy and moisturizing.
Our goat's milk soap is sold at Springs Farm Peach Stand in Fort Mill, SC! The Peach Stand is a South Carolina Certified Roadside Market. See/Submit Goat's Milk Soap Reviews Here.
Bars are approximately 2.5 oz each. We age our soap for 6 weeks so check dates for availability.
Soap Varieties
---
Page Updated 02/23/2015
Soap is $5.00 per bar unless otherwise noted.
Bulk orders of 15-25 bars are $4.50 per bar; orders of 25+ bars are $4.00 per bar.
Cinnamon Spice
Scented with cinnamon and clove essential oils, and ground cloves and cinnamon. AVAILABLE NOW
Honey Oatmeal
Scented with local honey and ground oatmeal. The oatmeal acts as a moisturizer. AVAILABLE NOW
Citrus Zest
Scented with a blend of lime, lemongrass, and orange essential oils. Contains ground orange peel and turmeric for color. AVAILABLE NOW
Lemongrass Castille with Rosemary
Castille is an olive oil only based soap, with goat's milk added of course. Scented with lemongrass essential oil with dried rosemary as an exfoilant. SOLD OUT
Lavender
Scented with lavender essential oil. SOLD OUT
Peppermint
Scented with peppermint essential oil and dried peppermint. SOLD OUT
Orange Peel Scrub Soap
Contains coarsely ground orange peel for scrubbing power. SOLD OUT
Spearmint Eucalyptus
Scented with spearmint and eucalyptus essential oils. Contains dried spearmint for color. SOLD OUT
Thieves Oil (limited edition 2013)
Scented with Thieves oil (a special blend of clove, lemon, cinnamon, eucalyptus, and rosemary essential oils). Contains dried rosemary as exfoilant. SOLD OUT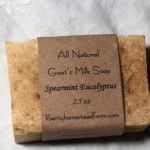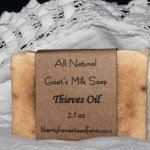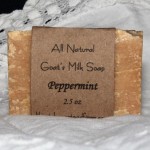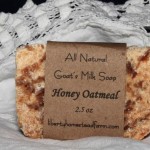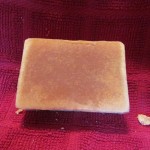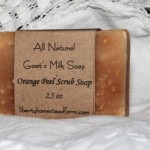 More Varieties Coming Soon!