Goat-Related Books:
Click on the book to buy from Amazon.com.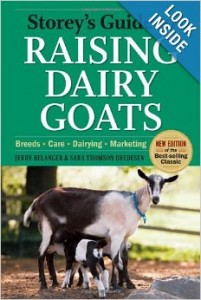 Storey's Guide to Raising Dairy Goats, 4th Edition: Breeds, Care, Dairying, Marketing
by Jerry Belanger & Sara Thomson Bredesen.
"This book will give answers and help novice goat owners get started. It can also be used by established goat owners wanting a reference in an easy-to-read format."
— John D. Howland, American Goat Society, Inc.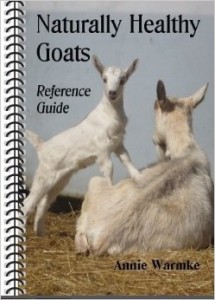 Naturally Healthy Goats Reference Guide (Blue Rock Station Style)
by Annie Warmke
"The purpose of this guide is to provide some basic steps for caring for a small herd of goats. My advice is rooted in real-life experiences that should enable goat keepers everywhere to use simple, no nonsense methods to help goats maintain a healthy balance of parasites, and to work hard for their owner every day."

"Our philosophy is to work with the goat's natural immune system – using probiotics rather than antibiotics to keep the herd healthy. We also recommend practical parasite control, using good care practices as well as herbal remedies – rather than large doses of medication that may hurt the goat and build immunity in the pests."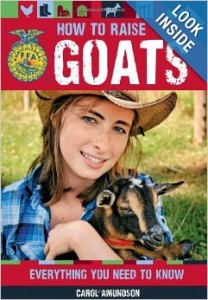 How to Raise Goats: Everything You Need to Know, Updated & Revised (FFA)
by Carol Amundson
"Whether you want to raise a dairy barn full of milkers, one hundred meat goats for market, a herd of Angoras for mohair fiber, or a few Pygmies as pets, this book is for you. Expert, hands-on advice makes it easy to get started raising a healthy herd. Longtime goat farmer Carol Amundson describes the breeds popular in the United States and Canada and explains all the helpful dos and don'ts. You'll find information about traveling with goats, marketing, treating illness, and more, including a glossary of caprine terms, tables and charts for easy reference, and a list of breed associations. Illustrated in full color, this guidebook is an indispensable resource for those who want to raise their very own goats."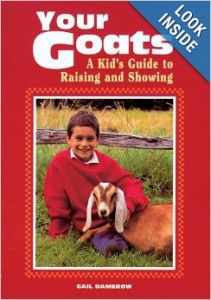 Your Goats: A Kid's Guide to Raising and Showing
by Gail Damerow
"This book tells you everything you need to know about raising goats, including how to choose, buy, raise, and show all types, from pets to pack goats."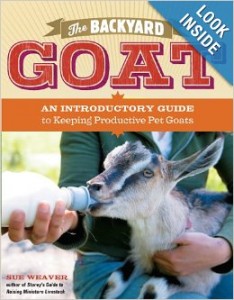 The Backyard Goat: An Introductory Guide to Keeping and Enjoying Pet Goats, from Feeding and Housing to Making Your Own Cheese
by Sue Weaver
"This is the complete beginner's guide to raising goats at home. Whether you want to raise goats for their milk and fiber or keep them as pets or companion animals, this book covers all the essentials. You'll learn how to choose the right goats for your needs and space, house and feed them, keep them healthy, and train them to do simple tricks, pull and drive carts, and serve as pack goats. You'll also learn how to milk, shear, breed, raise newborn kids, and more. The Backyard Goat makes it easy to enjoy the benefits of owning goats, with no experience necessary."
Books about Farming in General:
Click on the book to buy from Amazon.com.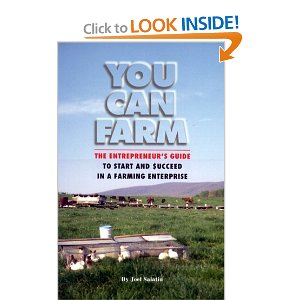 You Can Farm: The Entrepreneur's Guide to Start & Succeed in a Farming Enterprise
by Joel Salatin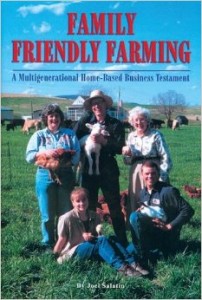 Family Friendly Farming: A Multi-Generational Home-Based Business Testament
by Joel Salatin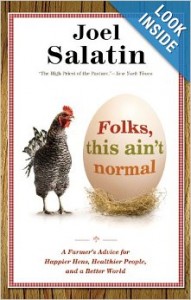 Folks, This Ain't Normal: A Farmer's Advice for Happier Hens, Healthier People, and a Better World
by Joel Salatin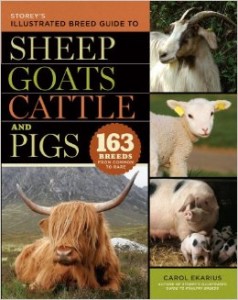 Storey's Illustrated Breed Guide to Sheep, Goats, Cattle and Pigs: 163 Breeds from Common to Rare
by Carol Ekarius
"Comprehensive, colorful, and captivating, this definitive, in-depth guide is informative enough to aid farmers in breed selection but beautiful enough for fanciers to browse as a coffee-table book. This indispensable reference showcases North American livestock breeds for what they truly are: fascinating, stunning, and endlessly varied."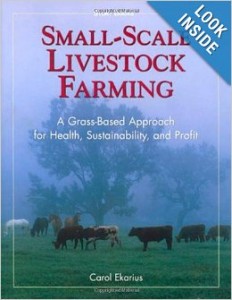 Small-Scale Livestock Farming: A Grass-Based Approach for Health, Sustainability, and Profit
by Carol Ekarius
"Carol Ekarius' natural, organic approach to livestock management produces healthier animals, reduces feed and health care costs, and maximizes your profit. Includes case studies of successful farmers, nitty-gritty details of every facet of livestock farming, and fascinating insights on how to work with nature instead of against it."