Page Updated 02/06/2017
ALL goat kids born on Liberty Homestead Farm will be disbudded. See here for more info.
Visit www.FerebeeFarm.com for meat, egg, and yarn sales.
I am always willing to consider making a trade for tested and healthy livestock of equal value. Contact me to make an offer.
Other services (contact us for details):
Disbudding – $25/head – available for goat kids only
Hoof Trimming – $50/head, $75 for adult bucks/rams – available for sheep and goats
Castration – $15 each for kids/lambs (band method)
Boarding (sheep and goats) – $5/day/head; $10/day for adult bucks/rams. All animals to be boarded must first pass tests for CAE/OPP and Johne's disease; we will not board any animal that appears to be unhealthy and will not tolerate any abscesses or signs of parasite infestation.
*Trip fees are not included in above pricing.

We now have Chaffhaye alfalfa "Pasture-in-a-Bag" available for purchase on the farm @ $16 per 50# bag. Chaffhaye is a non-GMO, dust/mold free, blister beetle free, fermented alfalfa product that is inoculated with probiotics and beneficial yeast. Whether you need 1 bag or 50, we can supply all your Chaffhaye needs! Contact us for more information or visit www.chaffhaye.com.
Currently available stock are listed below.
2 ADGA purebred Nigerian bucklings – $450-600
Out of Carolina/Pierre and Flicka/Hampton, respectively. Contact us for pictures and details
IDGR 50% grade Nigerian buckling – $400
Out of Rebekah and Cannoli. Contact us for pictures and details.
1 Year Old Proven Nigerian Dwarf Buck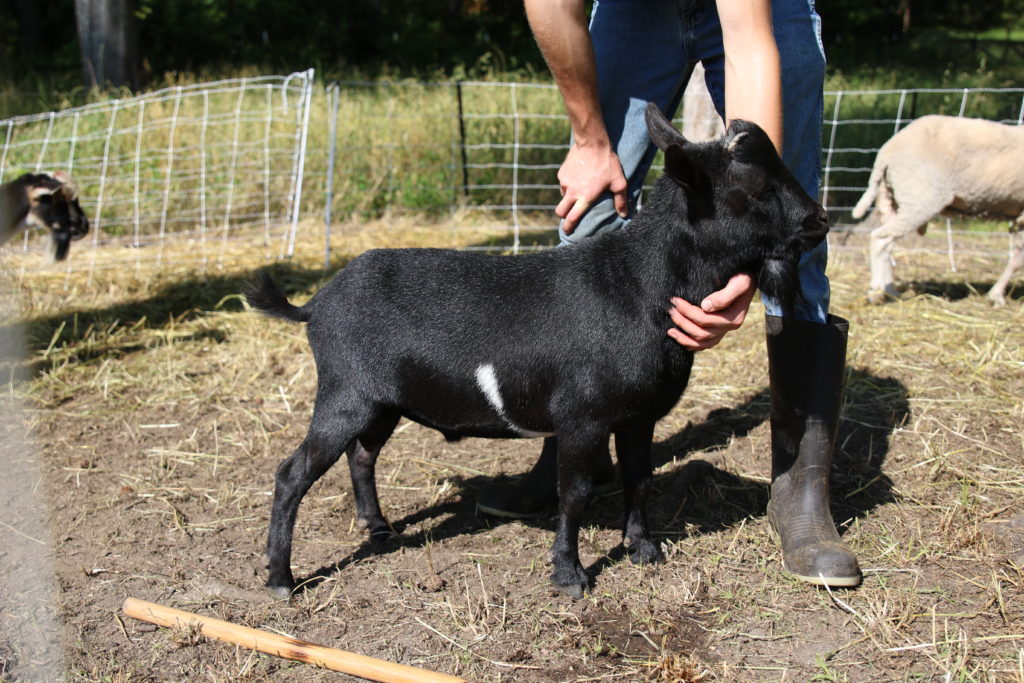 "Pierre" is a wonderfully promising young buck with an outstanding pedigree full of milk stars and show wins. He scored 85 VVV during linear appraisal this spring as a yearling. Pierre is linebred on: SGCH J-Nels ER Dumplin 1*M, Caesar's Villa LV Eric *S, CH J-Nels BB Dimples, Caesar's Villa STS Darcie, and ARMCH Caesar's Villa CBS Stetson +*S. I kept Pierre long enough to use him on one of my does through two seasons before letting him go, but I just don't need another buck.
***Update on Pierre (4/18/17): I will once again be keeping him through the fall of 2017 in the hopes of getting a doeling out of him and Carolina. Hopefully he will give me a keeper doe before he is sold.